I admit, I'm a procrastinator. I kicked off my first build in 2009 and finished it (with a lot of help) in summer of 2013. Sometime in between I felt I got "the bug" to kick off a couple of other projects" but they're been on the back burner for the past year or so because my house has needed attention and my efforts have been to try to DIY as much as I could to save on expenses. My role as a stay at home parent is partly on hiatus due to mental health reasons but I like to think that the experience has been constructive. This past week I just finished a project that I started back in October: what I'm calling my "autism awareness room."
As I type this my eldest son was diagnosed with autism spectrum disorder almost 10 years to the day he is now 13 but was diagnosed at age 3. He is still mostly nonverbal and obsessive/compulsive with a good amount of anxiety in the mix. I struggle to share the details but he was extremely destructive and a lot of our lives were pushed beyond the breaking point. Last July he had a major regression and we made the difficult choice of having him admitted into an inpatient program then on to a residential treatment facility. It was the hardest decision I have ever had to make and I struggle with it every day. Keeping busy has helped.
We live in a "cookie cutter" home built by a developer who offered several different "models." 30 years ago they bought a large swatch of hilltop farmland and bulldozed out enough area to put down as many of these houses as profitable and they danced all around the local building codes. While not prefab, the materials all come in a single bundle that is delivered on a flat tractor trailer. There was little margin for waste and naturally they used the cheapest labor so there are lots of glaring examples of "inefficiency."
This was my eldest's bedroom. He showed me that the stud placement was not up to code. At the time it made more sense to just put up paneling instead of continuing to patch things up because he'd exposed insulation.
He's not the only one with angst because of this experience and it felt good - albeit a bit messy - to complete the demolition: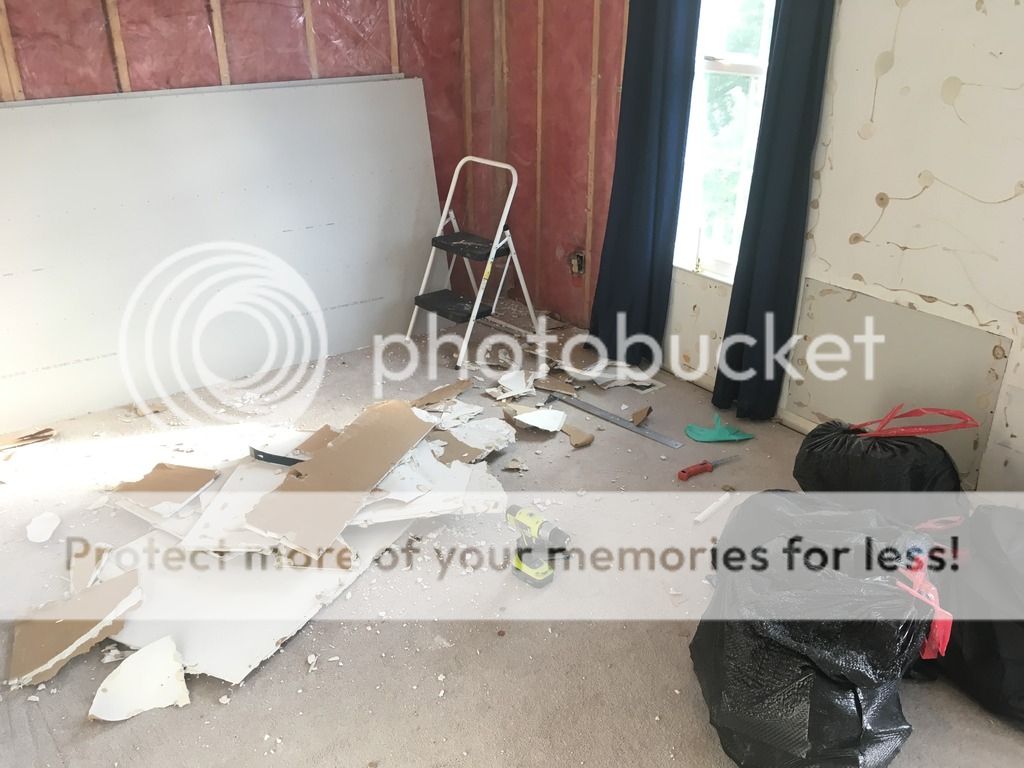 As an aside, I should point out that the garbage man wouldn't take a lot of this and there wasn't enough to warrant a full dumpster so I hauled it off to the dump myself. That was quite an experience. Very aromatic!
(continued...)