Last spring I bought this 0-16 kit from John Hall at Blues Creek. Spruce and ribbon stripe mahogany. This is my third build. I did two scratch builds a bunch of years ago. I like kits better.
I make and sell banjo block rims and the occasional whole banjo. The banjo business kept getting in the way and slowing down guitar building, but the guitar did progress slowly. This fall I had the box closed and the binding on and was beginning the Tru-Oil finish when an electric motor decided to jump off some storage shelves, bounce once, and punch a hole right in the middle of my top. (The bread always lands jelly side down, right?)
John Hall came up with a salvaged top for me. I cut the damaged top off, installed the new top, and here's the result.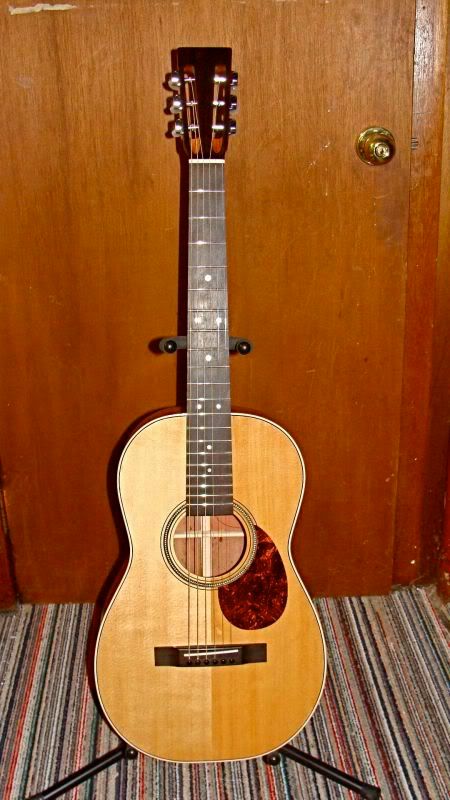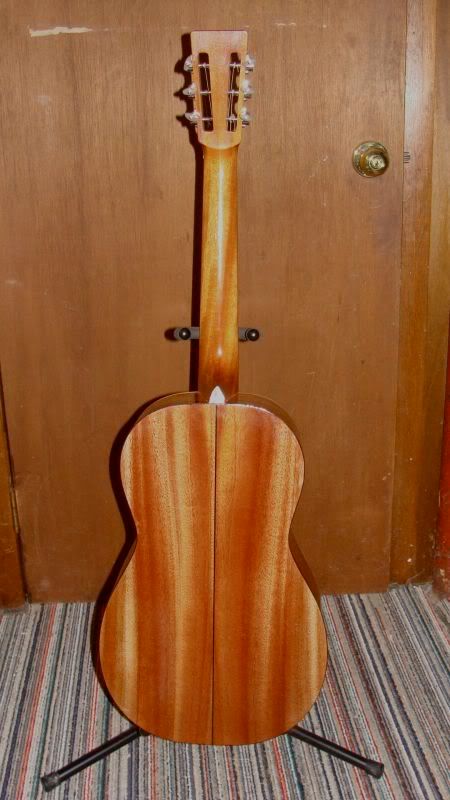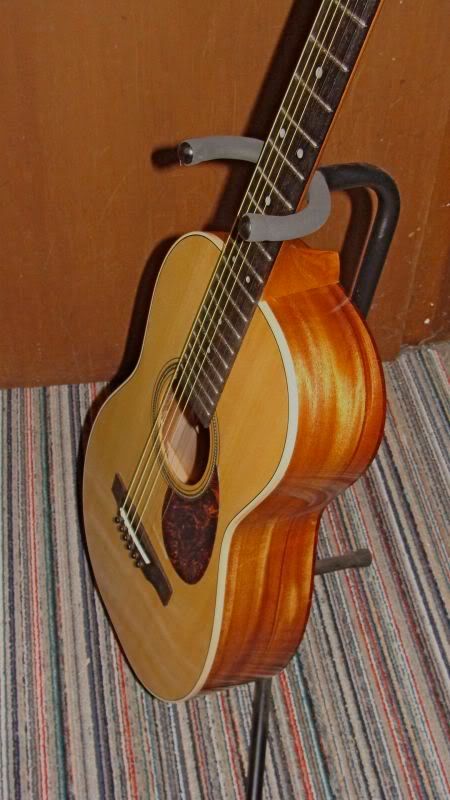 I made some mistakes along the way, but managed to correct them. And I took a couple of liberties with the basic design of the kit. The lower bout looked just a little too wide for my tastes, so I took an inch out. So it's more like a Martin size 1 parlor guitar. And the neck blank came with only one bolt set up. Even when cranked down pretty tight, it didn't feel stable, so I added a second bolt. Now it feels solid. I cut the belly off the standard Martin bridge so it would look like the small pyramid bridge without pyramids.
The bass sound is pretty good for a body this size. Mid range is very nice, but the treble needs to open up some more. It's a little tight and weak. But it has improved in just the week that I've had it strung up. I've got extra light strings on it now. I might have to go to lights.
What's next? I've got a koa 00-21 kit form Blues Creek that I will build this winter in Texas away from the Minneapolis snow and cold.