Here is number three, a Maple OM kit from John Hall.
Details:
Maple back and sides - all natural
Sitka Spruce top - natural finish and my first attempt at brace scalloping
Rosewood binding
Mahogany M&T neck with Abalone inlay - finished with a Martin formula tint of Mahogany red and Tobacco Brown
The biggest change I made in my procedure was moving away from the N/C rattle cans to Target water based finishes. I am amazed at the difference in the quality of the finish and the ease of use. Two barrier coats, eight sealer coats and four finish coats, cured for about two weeks and wet sanded to 12000 grit using micro mesh - no buffing. This if the first build that I did NOT have any blushing or finish problems!
I did learn a valuable lesson on neck setting and top radius with this guitar - I have actually changed my process in that I now check the neck fit and top radius prior to gluing up the top (my neck fit on this one is slightly off). It has made a big difference on my number four build (four, five and six are all in process with some brazilian rosewood acquired for seven).
Typical problems with pore finishing on the rosewood headstock and bindings, thank gosh that the Maple did not require any pore finish (for self satisfactions sake, I would recommend that every amateur try building a Maple early on in your learning process).
Also I paid a lot more attention to nut shaping, saddle and set-up on this OM. All in all, it ended up looking very good does not play that much different from my Martin 00028EC. Over the last several days of playing it has really started to open up and sounding fantastic.
This board is a valued resource to the amateur Luthier community and I want to thank Bill and everyone else who participates and shares - I hope to meet some of y'all at John's this Saturday!
Jack
Close up showing the bear claw features (thanks John - great quality wood)
The maple is beautiful - again, thanks to John Hall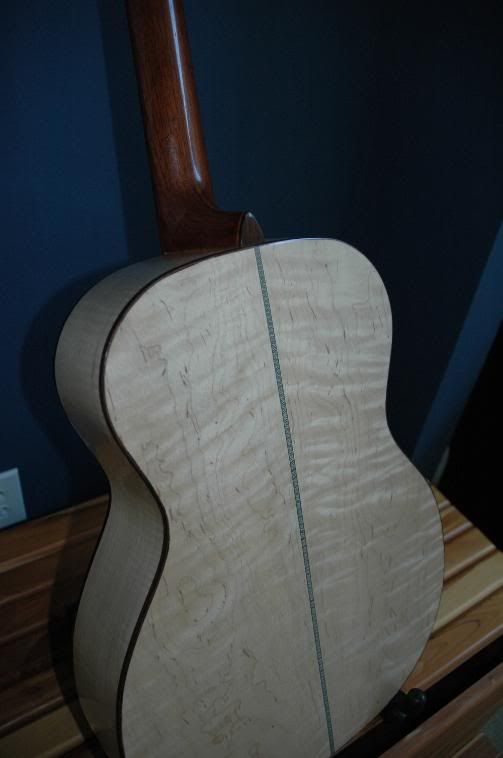 I have graduated to some real inlay work