Well just in time for Christmas, I have completed the 'twins'. I built these as Christmas gifts for my daughters and I used a red trim package for one and green for the other as those are their favorite colors. They are identical 000 14 fret short scale guitars with one exception. I did the red one with scalloped bracing and the green with parabolic bracing. Both sound very good and quite loud but he scalloped braced one has a bit more bass. The parabolic sounds a bit 'tighter' and isn't quite as loud as the scalloped one. I put a sound port in both of these, and I can say it makes an incredible difference in the overall sound and volume of the guitars. I have played them with the holes covered and there is a significant drop in volume. One of the goals with these was to build a quality sounding and looking instrument using second grade woods. I think I succeeded. Here are the spec's:
Top - AA Sitka spruce
Back and sides - 'opportunity grade' EIR
Bindings, heel cap and tail graft - Koa
Perflings Red/Green - Black - Red/Green
Rosettes: Spalt Maple and Curly Bubinga
Fingerboard and Bridge - EIR
Necks - Sapele
Tuners - Gotoh
Finish - Body Target USL, Necks Tru-oil.
Inlays - Paua Abalone
Here are some pictures. I will post a full group on my blog after Christmas.
This is the green parabolic braced guitar.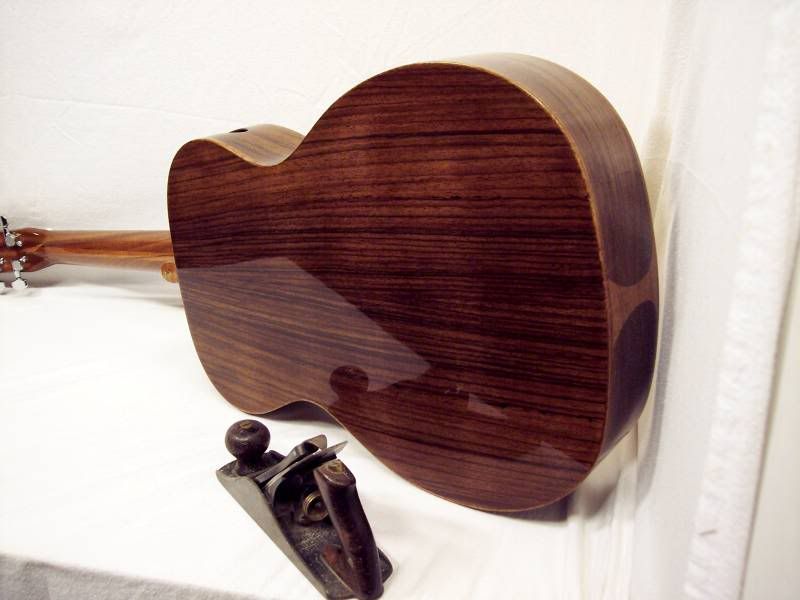 The back of the green one.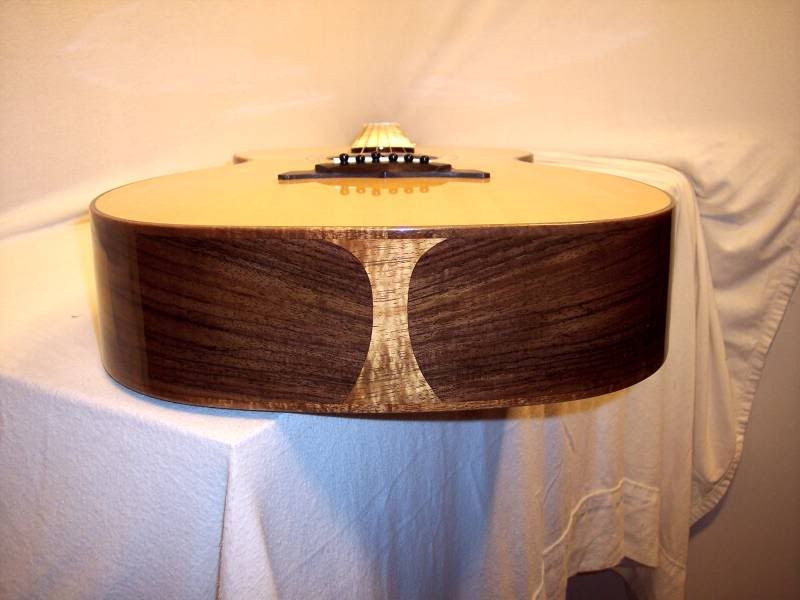 The tail graft of the green one.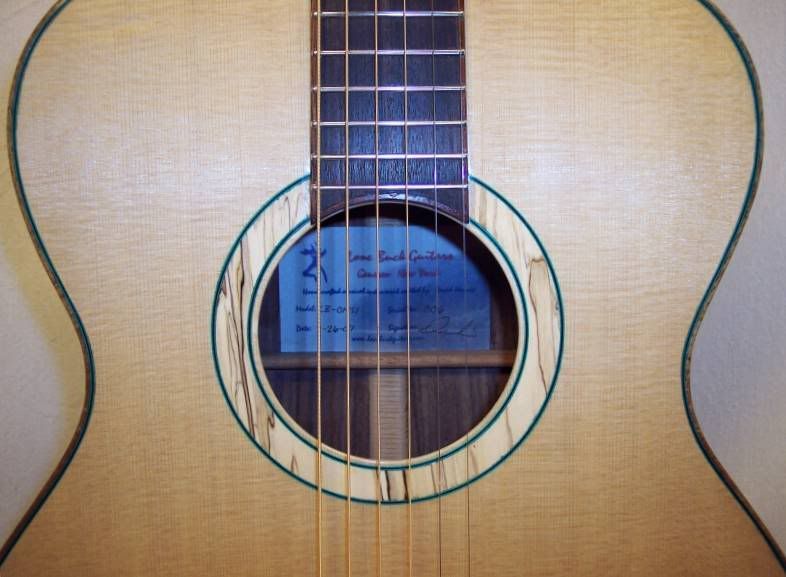 The spalt maple rosette.
The bridge on the green guitar. Okay, I know..... green bridge pins??? Well, these are going to teen agers so there has to be some 'bling' and I thought they go well with the perflings.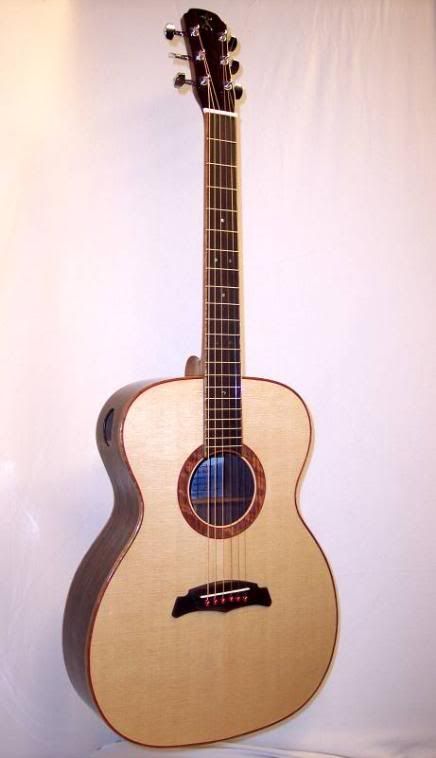 The red scalloped braced guitar.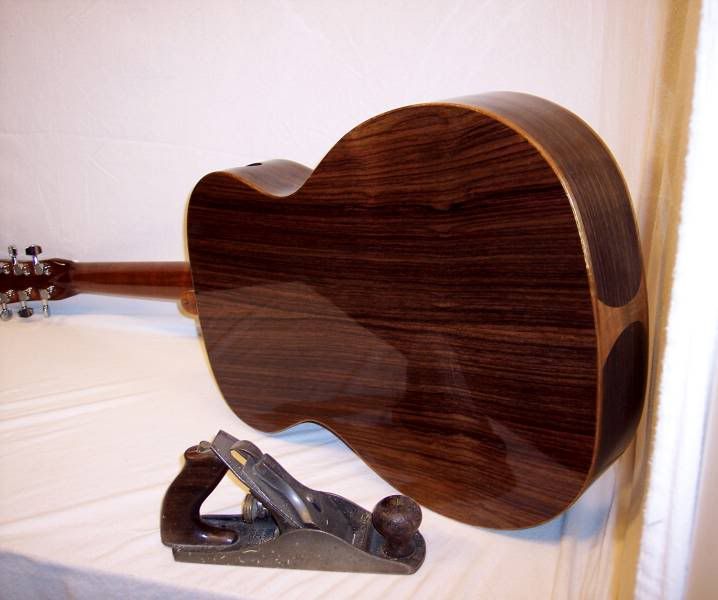 The back of the red one.
The curly Bubinga rosette.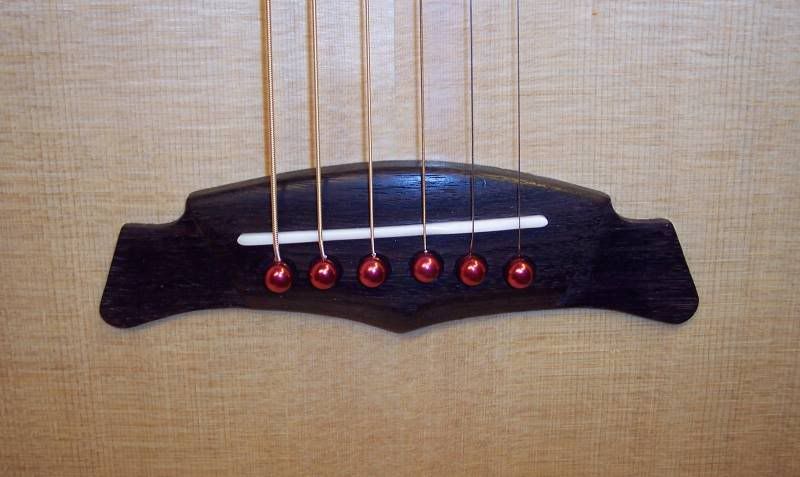 The bridge on the red one. Yep, red bridge pins.
The twins together.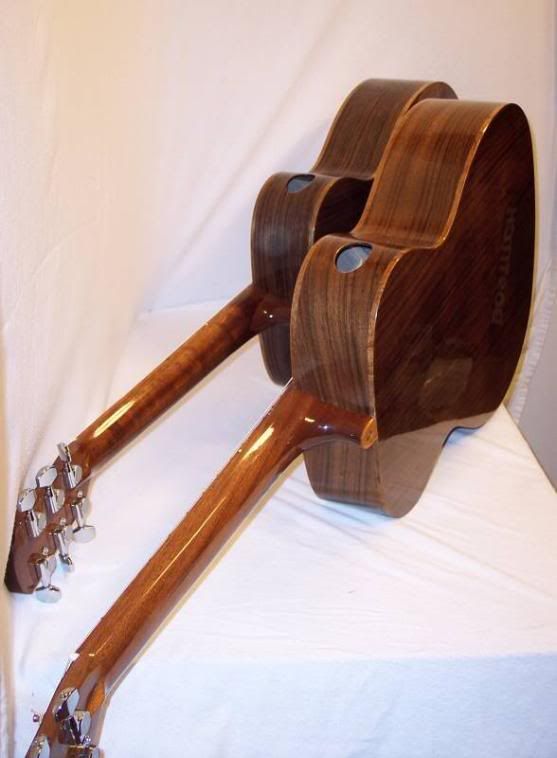 Here you can see the sound ports.
I am happy that I was able to get these done before Christmas. I hope the girls will be happy with them and make lots of music.
My Blog